Send Your Music to Phantom Circuit
Submissions are welcome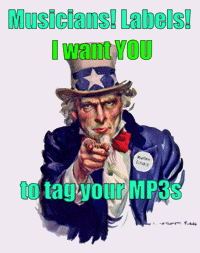 Phantom Circuit warmly welcomes submissions from creators and labels who think their music may fit into this very unusual show.
Note that there is only time to consider music that is sent in as explained below.
On this page...
The Essential Information
Step
How to send a link to your music release... in 3 simple steps!
1

Make sure that your audio files are correctly tagged MP3s.

You probably know all about tagging MP3s with (as a bare minimum) the artist, album and track names, but if you are unsure what this is all about, see the explanation below. ✳

If anyone out there uses AAC M4a files: yes, these are also welcome.

2

Have a download link ready.

Example: https://example.com/myalbum.zip Another example: https://bandcamp.com/yum.

This must be a single download link (URL) for the whole release (in other words, don't send links for each track: that's far too much work!).

Do not send audio files as email attachments.

3

Send an email with that link (and any information you want to send). All done!

You've read steps 1 and 2? Good. Here then is the current email address to use for your music submission.
✳ Always tag your MP3s
As you probably know (since this all basic stuff) tags contain the information that you see when you play music in iTunes or other audio players.
The following tags are essential as a bare minimum: artist names, track titles and album name.
Incorrectly tagged audio files cause needless work and confusion, and are not wanted.
Here is how correctly tagged audio files appear in iTunes or similar MP3 players
Wonderful! Feel free to complete other tags, such as the year of release, but this is optional.
Here are examples of doing it WRONG
Just horrible.
Telling you when your music has been included
You are of course invited to listen to every edition, but Phantom Circuit also uses Twitter to mention musicians and labels when their music has been included. If you want to help this happen, feel free to state your Twitter account name when sending in your music.
You can also see the playlist for each new show once it has received its first radio broadcast and been uploaded to Mixcloud. Simply follow Phantom Circuit on Mixcloud to receive emails when new shows have been posted there.
This site also announces new shows using its own RSS feed.
When music cannot be played
Sometimes it is not possible to include tracks due to lack of time or because the material is not quite right for the show at present. It's disappointing for Phantom Circuit as well as artists and labels when music cannot be included but you will understand that radio shows have to make such choices. Of course, subsequent submissions of music would still be welcome.