Phantom Circuit #366 - Featuring a session by The Creeping Man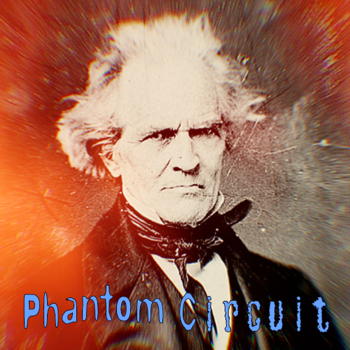 A sinister but spellbinding session by The Creeping Man plus tracks by Cub\cub, Dafra19, Charles Bobuck and Nessie Lessons, Group of Seven, Abdicant, Gemini Revolution, Creeping Eruption, The Creeping Man, Unknown Angel, Perry Rosewood, My Brightest Diamond, Pink Floyd, Pink and Black, A Certain Ratio and Conflux Coldwell.
First broadcast by Beachy Head Radio on Thursday, 25 August 2022. The image behind the lettering is used by permission of The Creeping Man.
For more about The Creeping Man, visit the artist's Web site and Bandcamp page.

Hear the show on Mixcloud
Playlist
| Artist | Track | Source | Starts |
| --- | --- | --- | --- |
| The Creeping Man | Daughter of the Green Lights | Widower | 00:00 |
| Cub\cub | Journey Into Light | Radiant Crush | 05:21 |
| Dafra19 | Trippin | Lesson #1 | 09:02 |
| Charles Bobuck and Nessie Lessons | Let Me Tell You About It | [Hacienda Bridge email newsletter 170214] | 12:39 |
| Group of Seven | Atlas Orating | Avante Garde Greenhouse | 17:15 |
| Abdicant | Perception Management | In-Group | 19:31 |
| Gemini Revolution | Sentient Basic Music | Switching In and Out of Consciousness | 27:34 |
| Creeping Eruption | Dichotomy | Dichotomy | 35:10 |
| The Creeping Man | Session for Phantom Circuit | Session for Phantom Circuit | 38:21 |
| Unknown Angel | A Short Melody for an Unknown Woman | アイシテル | 59:11 |
| Perry Rosewood | Citröen Melodie (Deux Chevaux) | Citröen Melodie | 1:00:36 |
| My Brightest Diamond | The Robin's Jar | Bring Me the Workhorse | 1:04:27 |
| Pink Floyd | Shine On You Crazy Diamond (Part I) | Wish You Were Here | 1:08:35 |
| Pink and Black | Sometimes I Wish (Dramadance USA Mix) | Sometimes I Feel... | 1:12:19 |
| A Certain Ratio | Spirit Dance | acr:mcr | 1:19:21 |
| Conflux Coldwell | HMS Albion | The Phantomatic Coast | 1:24:43 |