Phantom Circuit #365: Rise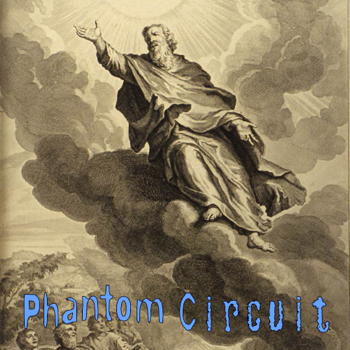 Music by Pollux, Carya Amara, 水 IX, Heavy Cloud, Cloudwarmer, Isoleren Lawaai, The Future, Pulselovers, Minny Pops, Simon Heartfield, Ghosts of Electricity, Forest Robots, Michael Stearns, Anatomist, Toxic Chicken, The Phantoms, Toad Doctor, Doctor Héctor, Zelde743, Gilbert & George and Dot Wiggin Band.
Phantom Circuit #365 was first broadcast by @BeachyHeadRadio on Thursday, 11 August 2022. This edit omits a short song that had grislier lyrics than I had realised. You will enjoy the show more without it.

Hear the show on Mixcloud
Playlist
| Artist | Track | Source | Starts |
| --- | --- | --- | --- |
| Pollux | End of a Day (No Future Version) | Crucial Hope for Dead Birds I | 00:00 |
| Carya Amara | Firebird | 🕊 | 06:07 |
| 水 IX | Eternal | 🕊 | 11:45 |
| Heavy Cloud | Or the Heart Will Glitch Forever | Memoria | 18:26 |
| Cloudwarmer | Fear of Windmills | Chronopolis : The Complete Recordings | 19:56 |
| Isoleren Lawaai | Sirocco | Gimme a Minute | 22:05 |
| The Future | Pulse Lovers | The Golden Hour of the Future | 23:34 |
| Pulselovers | Tales of Jack | Circles Within Circles | 27:20 |
| Minny Pops | Secret Story | Secret Stories | 30:46 |
| Simon Heartfield | Under the Waste of Light | Bureau of Public Secrets | 33:14 |
| Ghosts of Electricity | Marsh Lights | Field Recordings 2017-2021 | 36:24 |
| Forest Robots | Every Ray of Light in Between the Reeds and Trees | Supermoon Moonlight Part Two | 43:46 |
| Michael Stearns | Almost Daybreak | Floating Whispers | 48:13 |
| Some Chicken | Blood on the Wall | 1977: The Year Punk Broke | 54:20 |
| Anatomist | You're All Punks | Black Smoke Curls | 54:00 |
| Toxic Chicken | Ode to the Unknown Rockstar | The Unknown Rockstar | 58:47 |
| The Phantoms | Mandoline Rock | Patchwork | 1:03:28 |
| Toad Doctor | Liminality for Prepared Piano and Mandolin | We Are at War | 1:07:21 |
| Doctor Héctor | Pohjola | El Kalevala | 1:09:09 |
| Zelde743 | North | Global EP | 1:13:56 |
| Gilbert & George | The World of... | Ritual: Magnetic North | 1:22:29 |
| Dot Wiggin Band | End of the World | Ready! Get! Go! | 1:24:09 |