Phantom Circuit #305: Deep Time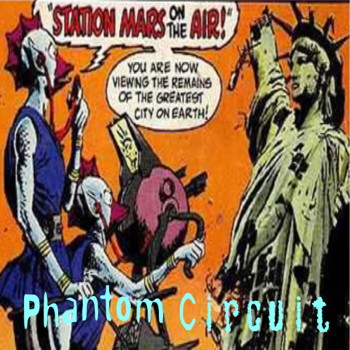 Dive deep into another selection of music that is surely worth anyone's time! Once again it's an extended, two-hour show because with selections such as these time just flies...
Music by Elsehow, Il Rovescio della Medaglia, Sparks, J. G. Sparkes, Albert Verrecchia, Robbe / Gloaguen, T. Makačinas, Caleidisco, Rone, Jean-Michel Jarre, Keith Ulrich & Charles Anderson, Kai Nobuko, Quaich, Astrovia, David Bowie, Black Funeral, Nemeton, PCRV + Vertonen, Mood Exhibit and Delia Derbyshire & the Radiophonic Workshop.
Available from Monday, 15 June 2020.

Hear the show on Mixcloud
Playlist
| Artist | Track | Source | Starts |
| --- | --- | --- | --- |
| Elsehow | Round | Patterns | 00:00 |
| Il Rovescio della Medaglia | Ora Non Ricordo Piu | Contaminazione | 04:45 |
| Sparks | My Other Voice | No.1 In Heaven | 08:17 |
| J. G. Sparkes | Abandoned | Gor West | 13:38 |
| Albert Verrecchia | Leave It Behind | Ritmico Moderno | 17:57 |
| Robbe / Gloaguen | Dronausorus | Behind the Mirror | 21:11 |
| T. Makačinas | Gėlės Veidrodyje | Disko Muzika | 28:45 |
| Caleidisco | Squant | Infinite Variations of Black & White | 33:00 |
| Rone | Tasty City | InFiné by JMJ | 35:44 |
| Jean-Michel Jarre | Equinoxe Infinity (Movement 10) | Equinoxe Infinity | 40:24 |
| Keith Ulrich & Charles Anderson | The White Sphinx | From the Pole to the Equator | 47:38 |
| Kai Nobuko | Typical Trip | Typical Trip | 56:53 |
| Quaich | Making Tea on a Miserable Sunday Morning | And Now That We Are Here | 01:11:50 |
| Quaich | Drowning | And Now That We Are Here | 01:14:31 |
| Astrovia | Mars's Youth: If a Civilization Has Been There | Solar Nursery Vol. 1 | 01:21:38 |
| David Bowie | Life on Mars? | Hunky Dory | 01:30:01 |
| Black Funeral | Deathless and Eternal | Ordog | 01:34:04 |
| Nemeton | The Intimate and the Eternal | Deep Time | 01:38:48 |
| PCRV + Vertonen | I | Deep Time | 01:46:13 |
| Mood Exhibit | Subject 39 (Filmy Ghost Remix) | Glitch on the Matrix | |
| Delia Derbyshire & the Radiophonic Workshop | Objet Trouvé | Radiophonica | 01:56:36 |