Phantom Circuit #282: with a session by Paul Nagle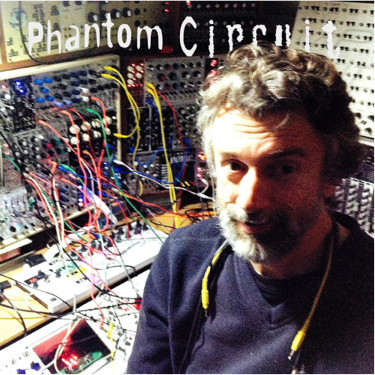 Phantom Circuit returns with the first in a new series, a show featuring an exclusive session by Paul Nagle plus tracks by Noisense, Beepblip, Arbee, neat., Snekhoose, Cacero Lazo and Neil Innes.
Available from 1st January 2020

Hear the show on Mixcloud
See below the playlist for Paul's notes on how the session was recorded.
Photographs courtesy of Paul Nagle.
You can hear more music by Paul on Bandcamp.
Playlist
Paul explains how his session for Phantom Circuit was recorded
I'd just had some mods fitted to my EMS Synthi AKS - inverse trapezoid and sample & hold - and had spent the previous day starting to explore them. Thursday is not my usual day for a sesh but I'd promised to help my niece move house on Friday, my usual indulgence day, so I brought my studio fun one day forward. With only beer and special shortbread as fuel, I started slowly working out how best to incorporate my new Novation Mono Circuit (I had weakened and gone for a Black Friday half price thing) into my 'Mixer 1' setup.

The studio is set up with 4 separate mixers and 5/6 discrete setups, 6/7 if you count 'in the box'. Anyway, I'd recently moved my Elektron Digitone into the main studio, slotting in some choice FM where the Eurorack used to fit into the sequencing regime. I was keen to see how existing projects could be adat to whatever happened to be in the P3 sequencer, and how easily I could combine it with the Mono Circuit. Mostly I wanted to capture patterns created on the P3 into the Circuit as I'm an old hand with the P3 and recording with pads doesn't really excite me.

Right away I needed to devise a system for recognising sessions in the Circuit by key. The darn thing doesn't have a screen you see and this kind of thing is important to me because I always mix and match my pattern-based gear. I decided on a colour system for key as follows: Am = Amber, Bm = Blue, Cm=Cyan, Dm=Violet, Em=Yellow, Fm=Red, Gm=Green I'd like to have used Lime - but on my Mono Circuit, it looks so similar to Yellow that the idea is pointless. And yes, there are no major keys. If I ever play in a major key, it would fit the minor with the same notes (e.g. I'd put CM in amber because it's all the same notes as Am).

Drums are supplied by my TT-78, a Roland CR-78 clone. My own CR-78 went long ago. Other synths in this setup are: Novation KS-4, Juno 6, Lyra-8. Effects: Oto BAM reverb, Roland DD-20 delay/looper, Oakley ADR30 delay. Juno 6 is processed by an Eventide Mod Factor and SRE330 chorus. Lyra is processed by a Behringer phased and Eventide Pitch Factor. Oh, and the Synthi-AKS is wailing away in the background, but I occasionally go and tweak it.

The recording process is simple - Logic used as a tape recorder and the sequencer parts go to the main output, the effects to a sub.
Paul's way of composing electronic music
My typical Friday afternoon session tends to produce quite a lot of music, of varied type depending on mood. Pretty much all my stuff these days is 'spontaneously composed' and recorded in a single pass. This gives it that live feel where the direction at any moment can change in response to the sound. Often, listening back, even I am surprised at the things that happened.

On this occasion, one of my vintage synths had been modified and I was anxious to try its new capabilities. I'd also bought a new toy and had rearranged one end of the studio to fit it in.

The music you hear was a result of hitting record on the computer and starting. It began with my new thing - a small synth with built-in sequencer - and the only idea I had was to keep things fairly minimal. Most of my past musical crimes have been related to over-indulgence - a mind that always wonders 'what if I add just one more thing?'. I'm basically Ribena in that the more I'm diluted, the more satisfactory the results. The second, ambient half of this piece is of the 'surprise' type because it just happened. The Synthi was wailing in a sea of reverb, calling me to start playing my Juno6 and Lyra8. And the result is what you hear.
Follow on Mixcloud to get email notifications about new editions of Phantom Circuit, or see the RSS and social media options below.