A Mixed Reply to Yeah I Know It Sucks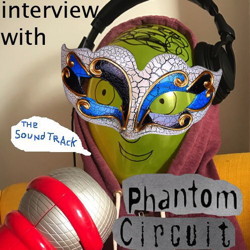 Absurdist music review site Yeah I Know It Sucks asked Phantom Circuit for an interview... In return, they got 24 track titles and a mix... Or to put it another way, this is the musical soundtrack to accompany the interview which you will find on Yeah I Know It Sucks.
Music by Linda Perhacs, Joe Frawley, KAO4S, Isobel Ccircle, Disintegrators, Cathy Berberian, The Wolfgang Press, Lee Morse, Jack Costanzo, Ultrasound, Ultravox, Mother Gong, DIN A Testbild, Wire, Paddy Kingsland, The Search Party, Trisomie 21, Dikyl Brobojo, Orchestral Manoeuvres in the Dark, The Beige Channel, Leben und Arbeiten, Absolute Body Control, Gridline and Σωτήρης Κοματσιούλης.
Available from 18 November 2019.
Read the interview on Yeah I Know It Sucks
Playlist
| Artist | Track | Source | Starts |
| --- | --- | --- | --- |
| Linda Perhacs | Hey, Who Really Cares? | Parallelograms | 00:00 |
| Joe Frawley | Yes, Please, Yes | Speak of This to No One | 02:41 |
| KAO4S | Love Radio | Standardeviation | 04:14 |
| Isobel Ccircle | Let It Go (Isobel's Virus Fallout Version) | For Scant Applause | 06:46 |
| Disintegrators | Bad Vibrations | Fire on Boat | 10:31 |
| Cathy Berberian | Here, There & Everywhere | Beatles Arias | 15:06 |
| The Wolfgang Press | 11 Years (Sabres Main Mix 1) | Funky Little Demons | 17:08 |
| Lee Morse | There Must Be a Silver Lining | Echoes of a Songbird | 22:56 |
| Jack Costanzo | Never Give Anything Away | Can Can | 25:57 |
| Ultrasound | A Fool Listens with His Eyes | Death Comes from the Left | 28:13 |
| Ultravox | Some of Them | Systems of Romance | 33:07 |
| Mother Gong | What Do You Think | Buddha's Birthday | 35:24 |
| DIN A Testbild | No Repeat | Berlin Super 80 | 40:53 |
| Wire | It's So Obvious | Pink Flag | 43:28 |
| Paddy Kingsland, BBC Radiophonic Workshop | Your Ways Are Not Our Ways | The Changes | 44:09 |
| The Search Party | So Many Things Have Got Me Down | Montgomery Chapel | 45:09 |
| Trisomie 21 | Sharing Sensation | Million Lights | 53:54 |
| Dikyl Brobojo | Instrumental Surprise | All There Is To Know About Life | 58:31 |
| Orchestral Manoeuvres in the Dark | Talking Loud and Clear | Junk Culture | 1:03:08 |
| The Beige Channel | Energy is Coming from Everywhere All the Time | The Palace of Gathered Elegance | 1:06:27 |
| Leben und Arbeiten | Ein Tag ist Nicht Genüg | Leben und Arbeiten | 1:09:58 |
| Absolute Body Control | Wait And See (It Is Just) | Live | 1:12:31 |
| Gridline | Nothing Really | Passages & Satellites | 1:15:02 |
| Σωτήρης Κοματσιούλης | The Kind King | Σαν Τον Άνεμο | 1:19:07 |