Phantom Circuit #39: Four yourself a gottle of geer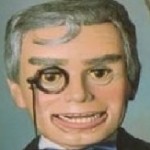 How hard hard can ventriloquism be? Let's have a go…
Phanton Cirguit takes a greak from gringing you skecial veatures and goes gack to offering a nix of old and new nusic rich re think you rill enjoy.

If you like, you can four yourself a gottle of geer to drink as you listen to the show, or herhaks you rould freefer a nice cuk of tea.
Alright, let's leave it to the experts.
(In memoriam).
Available from 3rd June 2010.
Playlist
| Artist | Track | Source |
| --- | --- | --- |
| Julia van der Piller | Reasons to Hate | Reasons to Hate |
| Coil | Heaven's Blade | The Ape of Naples |
| Keith Howden and Matt Howden | Demdike | The Matter of Britain |
| Commuters | The Ventriloquist | Commuters |
| Portishead | Sour Times | Dummy |
| Carya Amara | Ruby Don't Take Your Love to Town | Lard Motel / Succulent |
| JNL+Sadist | More | Pronesz |
| Tom Ellard | Smooth Flightpath | Return to Barbara Island |
| Antiloop | Orkesltar | Kiksu |
| Hawkwind | The Joker at the Gate | Church of Hawkwind |
| Geraldine & Ricky | The Three Little Trees [excerpt] | Trees Talk Too! |
| Moloko | If You Have a Cross to Bear You May As Well Use It as a Crutch | Things to Make and Do |
| 11:59 | By the Waters of Babylon | This Our Sacrifice of Praise |
| Tristram Cary | Master of the Universe | Devils' Planets |
| Kate Bush | How to be Invisible | Aerial |