Phantom Circuit #38: Faust - live music and interview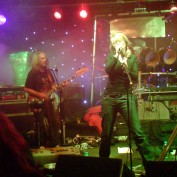 In this edition we feature an interview with Jean-Hervé Peron, Zappi Diermaier, Geraldine Swayne and James Johnston of Faust and by their kind permission bring you recordings of tracks from their outstanding live set performed on 10th May 2010 in Birmingham (UK).
"Tonight it was natural… Everything was flowing".
Music by Faust, The Residents and Button Moon.
Available from 27th May 2010.
Playlist
| Artist | Track | Source |
| --- | --- | --- |
| Faust | …In the Spirit | So Far |
| The Residents | Smack Your Lips (Clap Your Teeth) | The Tunes of Two Cities |
| | Faust interview part 1 | |
| Faust | Chromatic | Live in Birmingham, 10th May 2010 |
| | Faust interview part 2 | |
| Faust | Krautrock | Live in Birmingham, 10th May 2010 |
| | Faust interview part 3 | |
| Faust | So Far | Live in Birmingham, 10th May 2010 |
| | Faust interview part 4 | |
| Faust | Pythagoras | Live in Birmingham, 10th May 2010 |
| Button Moon | Lunokhod One Wakes Laika | In Orbit |
| Faust | Giggy Smile | 71 Minutes of… |