Phantom Circuit #36: Theremin Day with Miss Hypnotique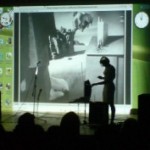 A report on Theremin Day in Birmingham (UK), featuring an interview with headlining thereminist Miss Hypnotique.
We also hear from participants in the day's DIY workshop, experience experiments with optically triggered noisemakers and consider the past, present and possible future of the theremin – one of the very earliest electronic musical instruments.
Live music by Miss Hypnotique and Mr Underwood plus tracks by Clara Rockmore and Misha Mahlin & Lydia Kavina.
Available from 6th May 2010.
Playlist
| | | |
| --- | --- | --- |
| Artist | Track | Source |
| Clara Rockmore | The Swan | The Art of the Theremin |
| | Optical theremin report | |
| Mr Underwood | Pendulum Music [excerpt] | live at Theremin Day |
| | Discussion about the optical theremin performance | |
| | Miss Hypnotique interview part 1 | |
| Miss Hypnotique | Improvised soundtrack to The Day the Earth Stood Still | live at Theremin Day |
| | Miss Hypnotique interview part 2 | |
| Miss Hypnotique | Improvised soundtrack to Spellbound | live at Theremin Day |
| | Miss Hypnotique interview part 3 | |
| Miss Hypnotique | Density 21.5 | live at Theremin Day |
| | Miss Hypnotique interview part 4 | |
| Miss Hypnotique | Clara de Lune | live at Theremin Day |
| | Miss Hypnotique interview part 5 | |
| Mr Underwood and Miss Hypnotique | Café Vixen | live at Theremin Day |
| | Audience reactions and reflections | |
| Misha Mahlin and Lydia Kavina | For Her Atoms | Music for Films III |