Phantom Circuit #35: with an interview with Joanna Quail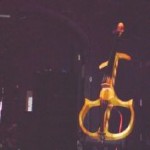 Featuring an interview with electrifying electric cellist Joanna Quail of SonVer, recorded after her recent solo performance in Birmingham. Jo tells us about playing the electric cello, loop-based improvisation and her role in the astonishing sound of SonVer.
The music in this edition comes from _voice, Lol Coxhill & Morgan Fisher, Cousin Silas, SonVer and My Brother Daniel.
Available from 29th April 2010.
Playlist
| | | |
| --- | --- | --- |
| Artist | Track | Source |
| _voice | Once I Met a Girl with the Sun in Her Head | Seek and Destroy |
| Lol Coxhill & Morgan Fisher | Flotsam | Slow Music |
| Cousin Silas | Driftwood Polished by the Ocean | The Snow Imposed Silence |
| Lol Coxhill & Morgan Fisher | Jetsam | Slow Music |
| SonVer | Ebusus | Luz del Abyss |
| | Joanna Quail interview – part 1 | |
| SonVer | Transparent Arms | SonVer |
| | Joanna Quail interview – part 2 | |
| SonVer | The Atlas Tree | SonVer |
| | Joanna Quail interview – part 3 | |
| SonVer | Anonima | SonVer |
| | Joanna Quail interview – part 4 | |
| SonVer | Roads | Luz del Abyss |
| My Brother Daniel | I am in Control Now | no-R-mal |