Phantom Circuit #29: featuring Clutter live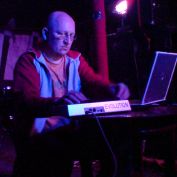 Show #29 features the entire live set by Clutter, recorded at the Wagon and Horses pub in Digbeth, Birmingham.
Clutter is a solo project by Shaun Blezard, whom we interviewed in Phantom Circuit #18.
There is also music by Ya Ya Choral, Minimal States, Killer Watts, Ariel Kalma, an uncredited performer and N.R.Y.Y.
First broadcast 25th August 2009
Playlist
| | | |
| --- | --- | --- |
| Artist | Track | Source |
| Ya Ya Choral | God's Buzzsaw | Such a Dutchman |
| Minimal States | Lake Effect | City of Buffalo |
| Killer Watts | A Walk in the Black Forest | The Many Moogs of Killer Watts |
| Ariel Kalma | Forest Ballad | Osmose |
| [uncredited performer] | Ondai Bondai | Music from the Forests of Riau and Mentawai |
| Clutter | [live in Birmingham 22nd August 2009] | [live in Birmingham 22nd August 2009] |
| N.R.Y.Y. | Good Violin | Doesn't Finish Ringing |